Knotwood Aluminium Battens
Wood battens look great in architectural features, adding a real sense of style and scale. The problem being that as sizes get increasingly bigger, so does the problem of fixing them to the structure. The bigger the pieces the longer, and more difficult the installation becomes.
Regardless of the style of fixing; angle, frame or otherwise, big pieces are hard to fix to the structure, often requiring specialized equipment, and bulky brackets and bolts to hold the timber straight. Even after all that effort within months the timber fades or cracks, which means having to get a ladder or an entire scaffold system set up in order to maintain the battens. Again the bigger the project the bigger the problem, and the more expensive it becomes.
Some people have tried using alternative materials such as steel. Although having significantly lower maintenance costs, the installation process is still extraordinarily difficult, difficult in comparison to the alternative…
Knotwood has recently launched a new aluminium batten system that brings the best of both worlds. The natural look and feel of wood, with a fixing system unlike any other, and next to no maintenance requirements.
Knotwoods Clip-Batten System combines the award winning Knotwood finish, with a purpose designed hidden fastening system that allows for an unparalleled versatility and a clean, floating finish that can't be matched by traditional systems.
The secret comes in the lightweight design of the two-part aluminium battens. The section is carefully designed to be as light as possible without sacrificing strength.
Benefits
Non-toxic
Non polluting
100% recyclable
Low carbon footprint
No VOC emissions
Features
Durable & long lasting
Low maintenance
Cost effective
Lightweight but strong
Excellent for curved wall facades
Termite, water & UV resistant
Fire resistant
Minimal moisture absorbance
Quick & easy to install
Will not crack, split, rot or grow mould & mildew
Applications
Fencing
Screens & screening elements
Straight & curved wall facades
Decorative enhancements &dramatic special effects
Street furniture such as seating components, table tops & rubbish bin surrounds
Exploded View
Batten Fence Install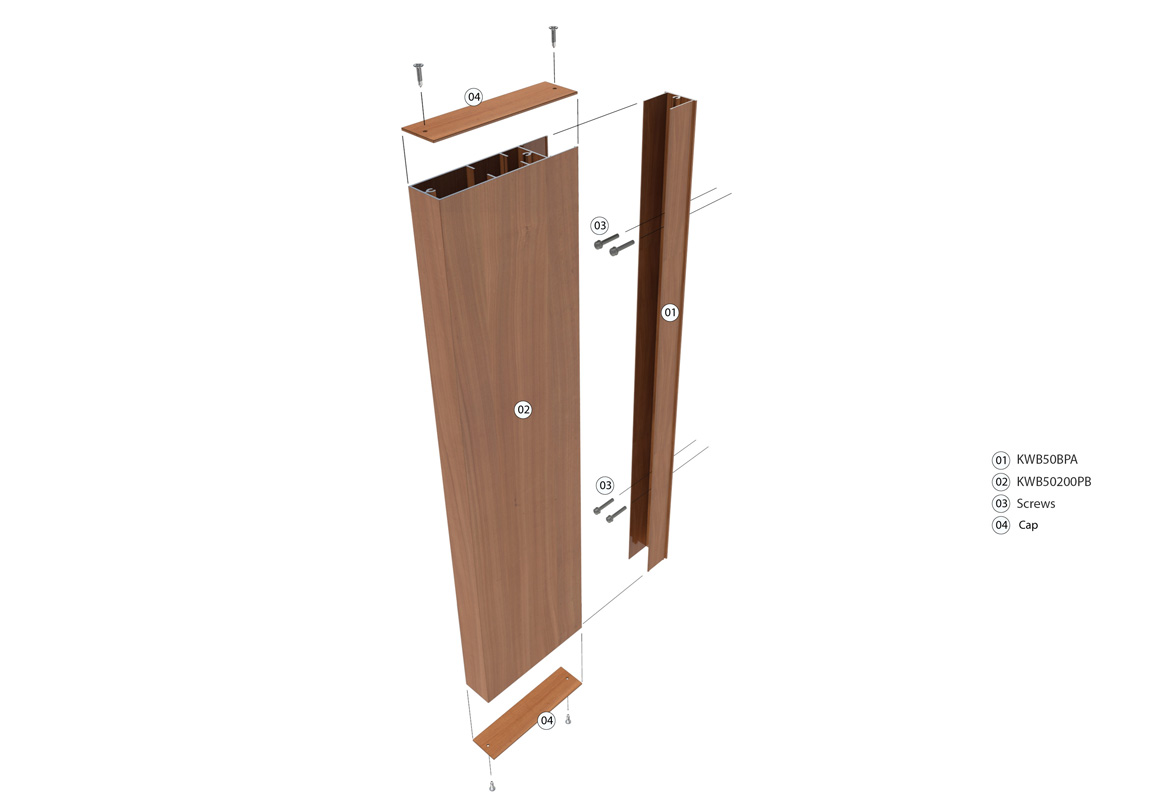 1. Attach KWB50BPA to wall.
2. Clip KWB50200PB onto the KWB50BPA.
3. Repeat until complete.